Podcast: Innovative Evaluation Methods for Transformational Change with GEF IEO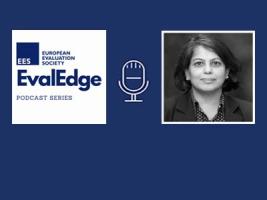 How is the Independent Evaluation Office (IEO) of the Global Environment Facility (GEF) using innovative methods for transformational change in its evaluations? Listen to Geeta Batra, GEF IEO Chief Evaluation Officer and Deputy Director, at EvalEdge, a podcast of the European Evaluation Society (EES). The podcast also draws on findings of the latest open access book co-edited by Geeta Batra and Juha Uitto, GEF IEO Director "Transformational Change for People and the Planet", and discusses how the evaluation market has evolved with the increased use of new technological methods like geospatial information. Featuring podcast team members Marco Lorenzoni, EES Board Member, and Tom Ling, EES Vice President.
Listen to the podcast here.