IDEAS Book Launch: Transformational Evaluation for the Global Crises of Our Times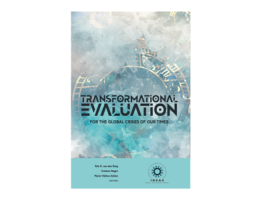 The sixth book following and building on a successful IDEAS Global Assembly (Prague 2019), this volume brings highly interesting perspectives on trajectories towards supporting transformation aimed at solving the global crises of our times. The COVID-19 pandemic has demonstrated the enormous challenges humanity is facing. It has been facilitated by other crises as climate change, biodiversity loss, economic exploitation, and increased inequity and inequality. The UN Agenda 2030 and the Paris Agreement on climate change call for transformational change of our societies, our economies and our interaction with the environment. Evaluation is tasked to bring rigorous evidence to support transformation at all levels, from local to global. This book explores how the future of the evaluation profession can take shape in 18 chapters from authors from all over the world, from North and South, East and West, and from Indigenous and Decolonized voices to integrative perspectives for a truly sustainable future.
Moderator by Ada Ocampo, President of IDEAS.
Panel members include:
Kenza Benanni, YEE and Board Member
Urmilla Bob, University of KwaZulu-Natal, Durban, South Africa
Adeline Sibanda, Director of ADESIM Developments
Juha Uitto, Director of the GEF IEO
Rob D. van den Berg, Former President of IDEAS
Recalling Sulley Gariba: Serge Eric Yakeu Djiam, Vice President of IDEAS
Visit the IDEAS website for more information including how to register.